Leah Oates
Paperplane, 2007
Leah Oates is a media artist living in New York.
For the flower house I would like to propose that I "adorn" the spiral staircase with digital photographs taken while in Finland next summer. I would like to photograph around the area that the house is in and on a broader level aroundTurku. The images would then be more specific to the house and the location that it is in and not just of "nature" in a general sense.
The work would be printed digitally upon returning to NYC on my studio printer. I would then send all the prints laminatedand ready to mount and then Jan-Erik can decide how to install them and essentially curate the final outcome.
During a residency at the Titanik gallery in Turku in the summer of 2006, Oates photographed a series, which will be mounted around the pillar of the central staircase.
The Transitory Space Series
The work I create first originates as a response to locations that are transitory and ignored such as piles of trash, alleyways, overpasses, abandoned structures etc. In most instances the locations that I have shot in are not desirable travel destinations, are generally poor or working class and are in areas with factories, fishing or forestry industries. I'm interested in this type of space for several reasons. They have a personal resonance for me as I grew up in a very similar American town and thus I have a strong emotional connection and knowledge of this type of place.
These transitory spaces have a life of their own where people can do things that they would not do in public spaces. Thus they have an inherent freedom that many public spaces do not have. In most instances public space is cleaned up or presented in a pleasant manner where as transitory space allows people the autonomy to do as they please. In this way they simply exist and change as people go about their daily business of living and striving. They show how a place can be a reflection of a community.
In this way transitory space more accurately document the mood of a place and a country than public space which can be sterile and lifeless. Transitory spaces have a messy human energy that is always in the present. This energy is both beautiful and ugly at once. In these places time passing is at its most beautiful as individuals or groups try to make a fragile mark on their surrounding. This attempt is a powerful and very human urge that can transgress established social boundaries. I'm not interested in transitory spaces for political reasons. I simply find them endlessly interesting, alive spaces where there is a great deal of beauty, fragility and human striving. They are temporary monuments to the ephemeral nature of human existence.
Finglass, 2007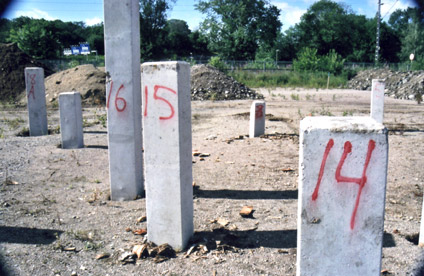 Posts14, 2007